Aug12
Today Los Angeles Galaxy coach Ruud Gullit has resigned from his position, leaving former US National Player Cobi Jones at the helm for the Los Angeles Galaxy. Also leaving the Galaxy is president/GM Alexi Lalas. Maybe this David Beckham idea hasn't worked out as planned.
Both parties have agreed on mutually agreeable terms to part company, it is an amicable arrangement and we appreciate and respect the issues that Ruud has highlighted with the club and are very grateful for all the hard work he has contributed while with the organization. Hopefully, he has laid the foundations for future success for the Los Angeles Galaxy.

Tim Leiweke, president and chief executive officer of Galaxy
The Galaxy are winless in their last 8 games after a solid beginning to the season. Beckham was dazzling, Landon Donovan was finally working well with the new structure of the team and it seemed as if everything was going right. Becks was filling stadiums and fans left satisfied with a Galaxy victory. Then suddenly everything went south. The team soon looked tired and seemed to be getting outplayed every game. All of a sudden now they are 6-8-5 and in fourth place in the west.
Now Ruud is out. Alexi is out. And Cobi is in. If the Galaxy don't make the playoffs again this year, what does that say for the MLS and this entire situation involving Beckham? Optimists could say, 'hey look the MLS is so difficult and so competetive that even with David Beckham and Landon Donovan the Galaxy can't even make the playoffs'. Pescimests will say, 'what's the point of Beckham coming over here if he can't get the Galaxy in the playoffs, he must not be as good as everyone says he is'. And they'd both be right.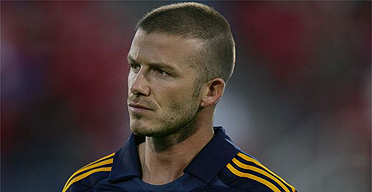 Bottom line is, the Galaxy need to make it into the playoffs this year. But going through all this to make the playoffs certainly would be a great story and a testament to David Beckham's career. For now, we just have to roll with it.
1 Comment »Alexi Lalas, Alexi Lalas Fired, Beckham Photos, Beckham Photos Galaxy, Beckham Trade, Chicago Fire, Cobi Jones, Cobi Jones New Galaxy Coach, David Beckham, David Beckham Career, David Beckham MLS, England, Europe, European Soccer, FIFA, football, Galaxy Head Coach, Kobe Jones, L.A. Galaxy, Landon Donovan, Manchester United, MLS, MLS All Star Game, MLS All Star Game West Ham, MLS Future, MLS Rumors, MLS Trade Rumors, MLS vs. West Ham, New York Red Bulls, Ruud Gullit, Sean Connolly, Sean Connolly Soccer, Sean Connolly Sports, Sean Connolly Writer, Soccer, Soccer America, Soccer Trade Rumors, SportsGist, U.S. National Team, U.S. soccer, U.S. Soccer Program, Uncategorized, US Soccer Olympics, US Soccer Team, World Cup